No matter where you are in the world, I can almost guarantee that whenever you go out to shop, whether for garden supplies, home improvement, or even for groceries, you'll likely come across an orchid plant (many of which are selling without a name tag).
As a collector or hobby grower, it's always exciting to see the vast array of varieties available today. But as a beginner, it can sometimes be difficult to identify or, at the very least, classify what hidden gems we've discovered, especially with over 750 genera of orchids recorded today. Of course, it'd be impossible to go through every single one in one blog post, but we'll start with the most prevalent.
This is a beginner's guide to identifying common orchid plants without flowers.
Cattleya
Structure

Sympodial
Produce rhizomes
Plant grows as slender Pseudobulbs (canes) that produce 1-2 thick and typically sturdy leaves but some hybrids can contain more leaves
Dry sheaths become visible on each pseudobulb
Aerial Roots

Spikes

Grow directly from crown
Usually Short and soft
Phalaenopsis "Moth Orchid"
Structure

Broad rounded flat leaves
Monopodial / Central Stem
Leaves grow on the opposite side
Thick aerial roots

Spikes

Grow from the base of the orchid, typically between flower leaves
Stems are usually long and stiff
Plentiful, rounded buds
Paphiopedilum "Lady Slipper" Orchid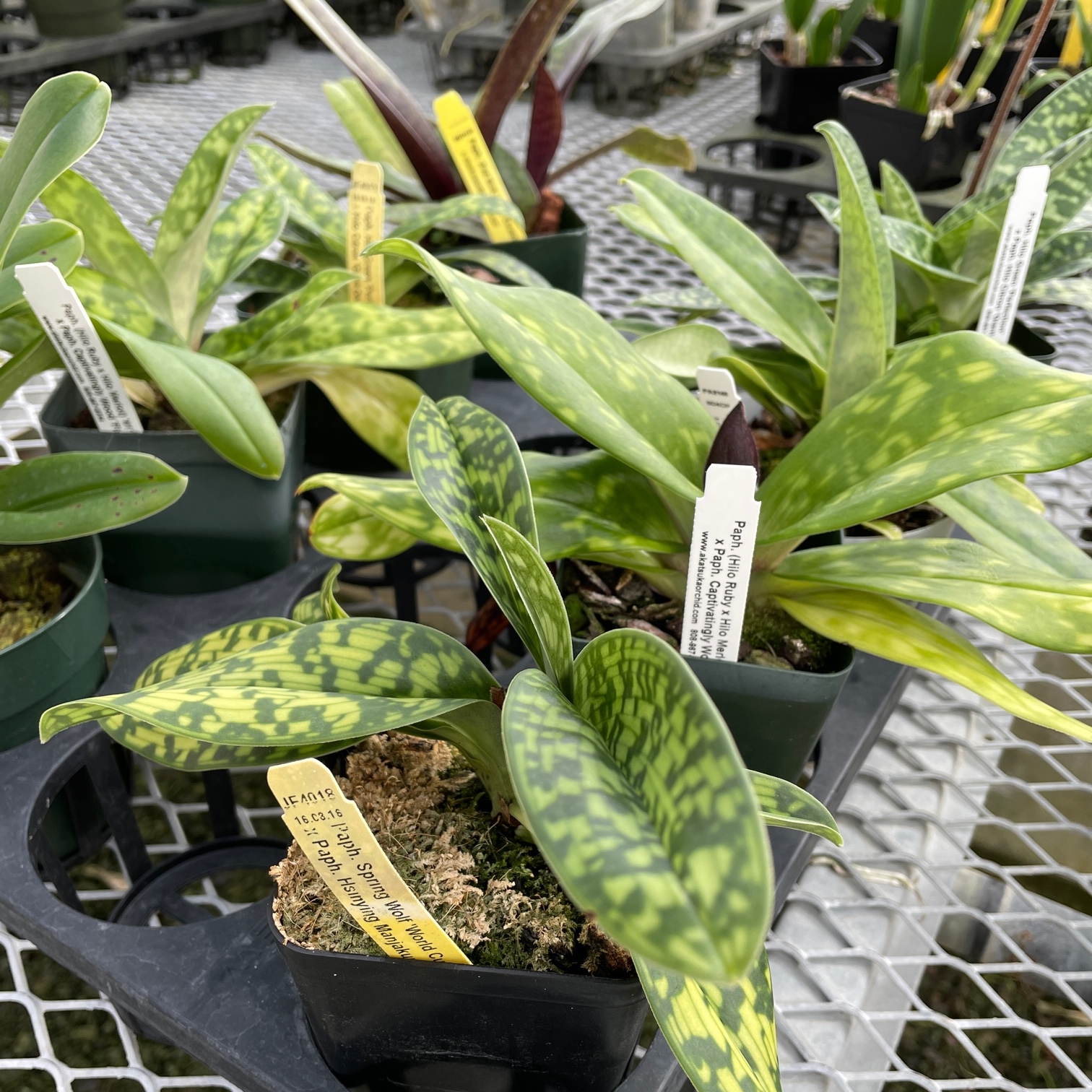 Structure

Rounded flat leaves
Leaves grow across from each other
"Fan" like without a central stem
No aerial roots (Terrestrial type)

Spikes

Grow from the crown
Typically produce a single bud (sometimes sequential bloomers)
As plants mature they can eventually produce multiple buds per spike
Dendrobium Phalaenopsis Orchid
Structure

Slender pseudobulb (cane) with nodes
Leaves grow along the pseudobulb

Spikes

Long, thin, and stiff with multiple buds
Grow from the crown and/or between the leaves
Can sometimes rebloom from the same pseudobulb
Dendrobium (Honohono) Orchid
Structure

Long slender canes with many nodes
Lots of thin, aerial roots
Single leaves grow on each side of the nodes
Deciduous type (will lose leaves prior to flowering)

Spikes

Extremely short spikes grow from the nodes (usually from where the leaves have dropped)
Flower buds seem to almost grow directly from the nodes
Oncidium Orchid "Dancing Lady"
Structure

Sympodial
Clumps of ovoid to conical pseudobulbs
Each pseudobulb produces 1-3 leaves arising from the tips
Leaves can get up to 2' long

Spikes

Grow from the base of the orchid, typically between leaves
Long, usually branching, erect to arching inflorescences
Many-flowered, usually bearing small to medium flowers
Odontoglossum Orchid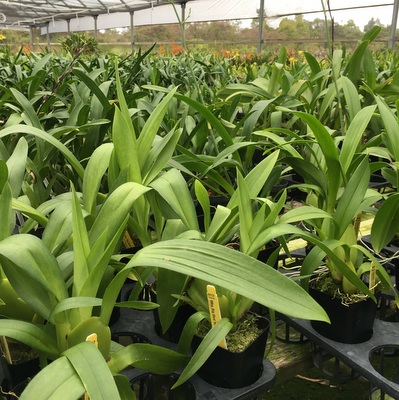 Structure

Sympodial
Clumps of compressed, mostly ovoid pseudobulbs
Each pseudobulb produces 1-3 leaves arising from the tips
Leaves can get fairly long

Spikes

Grow from the base of the orchid, typically between leaves
Long, usually branching, erect to arching inflorescences
Many-flowered, usually bearing medium to large flowers
Cymbidium Orchid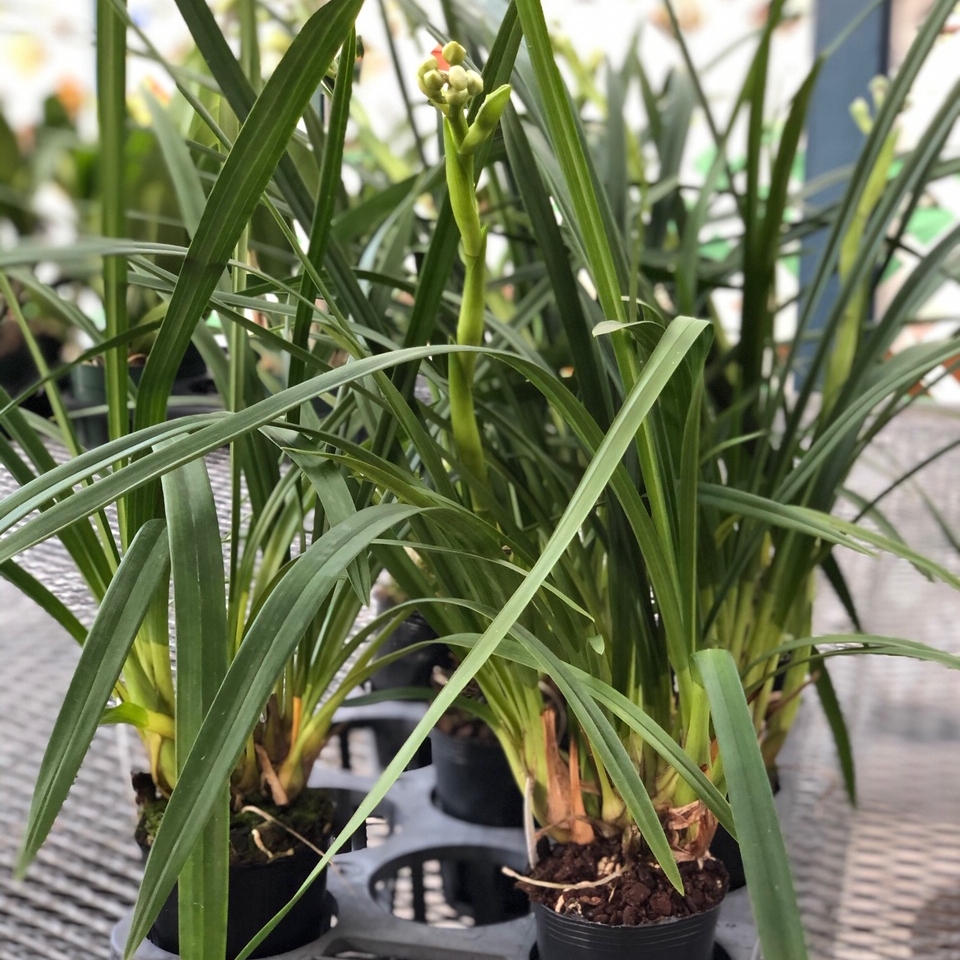 Structure

Sympodial
Clumps of compressed pseudobulbs
Long, thin, ornamental leaves

Spikes

Grow from the base of the orchid, typically between leaf sets
Long, impressive flower spikes
Stem with numerous buds/blooms, usually in spiral shape
Typically bearing medium to large flowers
Vanda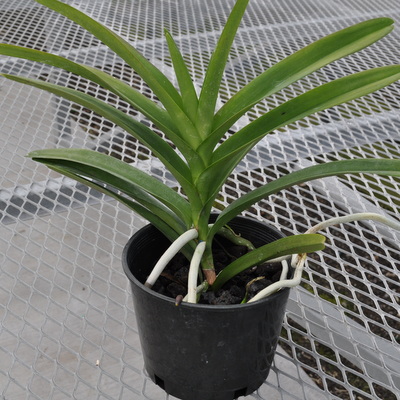 Structure

Monopodial, vertically along central rhizome
Leaves grow in a ladder-like fashion to either side of the rhizome
Usually thick and fleshy
Long, thick aerial roots

Spikes

Grows between leaf sets
Bumpy with pointed ends, possibly 3-4 tiny nodules
Spikes usually produce 4-7 buds/blooms depending on size and maturity
Typically bearing relatively large flowers