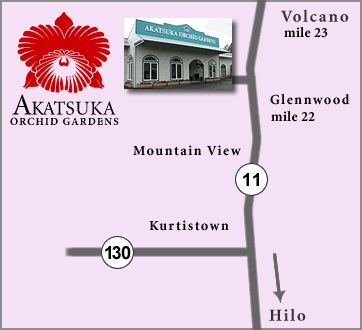 Driving Directions:
We are located on the Big Island of Hawai'i. If you are planning a trip to Volcanoes National Park, we are along way!
Our physical address is:
11-3051 Volcano Road, Volcano, HI . 96785.
Heading on Hwy 11 from Hilo to Volcano, we are between the 22 and 23 mile marker. It's about a 25 min drive from Hilo and 10 min. from the National Park.
The building has easy access and is wheelchair accessible (with facilities).
Retail Store Hours:
Monday thru Saturday 10:00am - 4:30pm
Closed on SUNDAYS & Major Holidays. Click here to view our holiday schedule.
We're happy to help answer any questions.
Please fill out the form below if you need assistance.
We will respond during our regular business hours of 10:00am-4:30pm (HST).
You may also contact us by:
Phone: 808-967-8234 Email: info@akatsukaorchid.com Mail: P.O. Box 220, Volcano, HI 96785